The allure of rustic charm is undeniable. It evokes a sense of coziness, simplicity, and a connection to the natural world, making it a timeless decor choice for any home. But where do you begin if your walls yearn for that warm, weathered look? This is where we step in.
We've assembled an inspiring collection of 126 rustic wall decor ideas and projects that will transform your living space into a countryside haven.
From reclaimed wood masterpieces to antique accents, this comprehensive list features a range of options for every taste and skill level. If you're an experienced DIYer or a decor enthusiast looking for quick and easy solutions, our selection of rustic wall art and projects offers a treasure trove of creative possibilities.
Prepare to breathe new life into those bare walls with rustic flair.
Jump to:
1. Rustic "String Yarn" Sign
This unique sign can infuse your home with warmth and personality. It's a great DIY project if you love the rustic aesthetic, and it can make for a heartfelt gift.
2. Wooden Wall Art DIY
This isn't just a piece of art; it's a message of unity and peace. You'll enjoy the artistic process and appreciate the social statement it brings to your living space.
3. DIY Large Scale Wall Art from a Shower Curtain
Creating an oversized canvas from a shower curtain allows for impactful, budget-friendly wall art. It is ideal for spaces demanding a statement piece without the exorbitant price tag.
4. Wooden Mosaic Wall Art DIY
Tired of gazing at overpriced backsplashes? This wood mosaic wall art satisfies your artistic cravings while giving your walls an expensive look without the hefty price tag.
5. DIY Mason Jar Wall Decor
Those empty walls flanking your statement piece can be made gorgeous with this mason jar decor. It offers a quaint farmhouse vibe, and you'll love how it completes your bedroom aesthetic.
6. Herringbone Wall Art
Feel your room's atmosphere transform with this chic herringbone wall art. If you're a fan of texture, this project makes use of wood shims for an added layer of visual depth.
7. DIY Wood Framed Mirror
If you're always wondering how your outfit looks head-to-toe, this full-length wood-framed mirror solves that problem. It's not only practical but also adds a rustic charm to your bathroom or bedroom.
8. Pottery Barn Inspired Cut Out Wood Star Art
Have you ever wanted a Pottery Barn piece but missed out? Now, you can craft your own wooden star art, adding a whimsical touch to any room while saving you a trip to the store.
9. DIY Rustic Barn Wood Corner Gallery Wall
This corner gallery wall is more than just visually pleasing; it holds sentimental value. You'll create a meaningful display that cherishes family memories using old fence posts.
10. Outdoor Wall Sconce Pallet Art
Brighten up your outdoor space with these wooden sconces. They're especially captivating with submerged colors, making your patio the ideal spot for evening get-togethers.
11. Rustic DIY Bookshelf with IKEA Ekby Brackets
If your books and knick-knacks are cluttering your space, this rustic bookshelf offers an elegant solution. It's sturdy and stylish, and the IKEA brackets make installation a breeze.
12. 5 Minute Woven Wall Hanging
Short on time but want to spruce up your walls? This five-minute project lends an artistic touch with minimal effort, making it perfect for last-minute home improvements.
13. DIY Curtain Rods (Restoration Hardware Inspired)
Elevate your windows with these durable, wood-based curtain rods. You'll adore how they add a touch of luxury, closely resembling the high-end styles you see in stores.
14. DIY Wood Wall Art with Scrap Wood and Wood Shims
If scrap wood is lying around, this project turns it into a masterpiece. Your empty wall will thank you for the artsy uplift, and you'll cherish the hands-on crafting experience.
15. Dyed Wall Hanging With String
Eager to dabble in textile arts? This dyed string wall hanging gives your space a burst of color and texture. You'll be proud of creating something so visually stunning in just a short time.
16. DIY Woven Holiday Wall Hanging
This woven holiday wall hanging injects a festive spirit into your space. It's a fabulous way to add texture and holiday cheer to an otherwise dull wall.
17. Beaded Wall Mirror
If your bedroom is yearning for a makeover, this round beaded wall mirror offers a colorful accent piece. It combines a blend of blues, greens, gold, and whites, creating a serene atmosphere you'll appreciate daily.
18. Revamped Kitchen Crate Shelves
Are you reorganizing your kitchen? These revamped crate shelves keep your kitchen island clutter-free. From tools to office supplies, each crate serves a specific purpose, streamlining your kitchen activities.
19. DIY Rustic Wood Chalkboard
In need of a pick-me-up? This chalkboard made from sliced wood offers a space for uplifting messages and bible verses. It's such an easy project that even those who think they're not crafty can tackle it.
20. Chalkboard Calendar
For those who crave structure, this oversized chalkboard calendar is perfect. It's not just a functional planner but also serves as a statement piece on your wall. Say goodbye to missed appointments and hello to organization.
21. DIY Farmhouse Chalkboard with Rustic Wooden Frame
Have an empty kitchen wall that feels like a void? A rustic chalkboard fills that space while serving as a useful memo board. The farmhouse-style wooden frame adds a charming, homey touch.
22. DIY Wall Art "Love"
This LOVE wall art is an ideal project for those looking to refresh existing decor. With just a simple color tweak, you can revitalize the entire mood of the room.
23. DIY Carved Wood Art
Turn scrap wood into intricate wall decor with this carving project. The texture and dimension make it a standout piece that's distinctly your own.
24. DIY Rustic Picture Frame
Nothing captures memories like photos. With this DIY rustic picture frame, you'll display your precious moments and add a unique, handcrafted touch to your home decor.
25. Framed Flower Decor Made from Pine Cones
If you love beautiful and eco-friendly crafts, this pine cone flower frame adds a dash of rustic charm to any room. It's a low-effort, high-impact project you'll enjoy crafting.
26. DIY Pallet Wall
Changing your wall doesn't require stripping wallpaper. With various shades of palettes, this wall decor adds a rustic storytelling element to your room.
27. The Perfect Wreath Backdrop
Transform chicken wire and an old frame into the perfect backdrop for your wreath. It adds an extra layer of visual interest, making your existing decor stand out even more.
28. Family Wood Scrabble Wall Art
Personalize your living space with these oversized wooden scrabble tiles that spell out your family names. It's a creative and fun way to celebrate each family member.
29. DIY Rustic Wooden Cross Wall Decor
This wooden cross-wall decor is a straightforward project that adds a serene touch to any room. It's a symbol of faith and a lovely piece of rustic decor.
30. DIY Wood and Leather Trellis Plant Wall
Plant lovers, rejoice! This trellis plant wall is an ingenious way to display your green babies. The wood and leather combine to create a rustic yet modern vertical garden.
31. Pineapple Wooden Welcome Art
You'll love how this reclaimed pallet project adds a welcoming touch to your home. Infusing southern hospitality, this pineapple art is trendy and easy to make, instantly warming up your living space.
32. Macramé Hanging Shelf
For those who cherish unique accessories, this macramé hanging shelf elevates any room's aesthetic. It's a modern take on bohemian vibes and offers an extra storage spot for trinkets and books.
33. Wall Mirror Featuring Wood and Yarn
You'll appreciate the elegance of this mirror that effortlessly blends rustic and contemporary aesthetics. With on-trend earthy tones, it's an eye-catching addition to any home setting.
34. Mounted Paper Flowers
If you're a fan of long-lasting decor, these mounted paper flowers are for you. Artistic and durable, they let the natural beauty of the flower shine while requiring minimal maintenance.
35. DIY Plywood Boho Chic Pegboard Wall
This pegboard wall offers a unique, industrial look and ample storage space. You'll be amazed by how this feature wall makes a bold statement and keeps your room organized.
36. Boho Yarn Wall Hanging
You'll adore the homemade texture and vibrant colors this wall hanging offers. A unique way to introduce some 'boho chic,' it adds dimension and warmth to your home.
37. Dip Dyed Wall Hanging
Experience the retro charm of 70's style macrame but with a modern twist. This dip-dyed wall hanging adds a pop of color and texture, perfect for any contemporary home.
38. Easy DIY Yarn Wall Hanging with Beads
Liven up a dull room with this textured yarn wall hanging. It incorporates beads for a dash of elegance, instantly becoming the room's focal point without overwhelming the space.
39. Knotty Pallet Industrial Pallet Towel Rack
This multi-functional towel rack offers both form and function. You'll appreciate the built-in shelf, perfect for storing your bathroom essentials in a stylish way.
40. DIY Basket Wall Art
Who knew rattan plate holders could become stylish wall art? You'll enjoy the burst of creativity this project brings to your home, reviving childhood memories along the way.
41. Hanging Mason Jars
You'll be charmed by the whimsical aura these hanging Mason jars add to your bedroom. They make for an engaging visual display while offering the practicality of extra storage space.
42. Sustainable Boho Modern Wall Planter
Offering both style and sustainability, these wall planters are a must-have. Made from responsibly harvested Australian pine, they'll help you display your greenery in a chic way.
43. Letters From Reclaimed Lumber
You'll enjoy the statement these oversized letters make. Cut from reclaimed lumber, they bring a rustic charm and fill empty wall space with something that's authentically you.
A long-overdue project for moon enthusiasts, this wall hanging offers the metallic sheen you've been looking for. It's an elegant yet simple way to honor the lunar phases in your home.
45. Rustic Wall Decor with Clock and Mirror
Elevate your living space with a functional yet stylish wall ensemble that includes a clock and mirror. It's an all-in-one solution that effortlessly combines form and function.
46. Coastal Charm Farmhouse Style
You don't need a farmhouse to experience rustic charm. Transform your living space with shiplap and beadboard, making it the cozy haven you've always wanted. Ideal for those who adore farmhouse aesthetics.
47. Colorful Yarn Wall Hanging
A delightful project to tackle with your kids, this yarn wall hanging will give a pop of color and creativity to any room. Even if you're new to crafting, the tutorial makes it simple and engaging.
48. DIY Wall Hanging with a Mop
Breathe new life into an ordinary mop head by turning it into an eclectic wall hanging. Perfect for filling an empty wall space, this DIY project blends everyday items and creativity for a personalized touch.
49. DIY Pressed Plant Frame
Finding the right wall décor for your bedroom can be challenging. This DIY Pressed Plant Frame allows you to show off your shiplap wall while also displaying beautiful pressed plants for a nature-inspired look.
50. DIY Lace Curtains Using Table Runners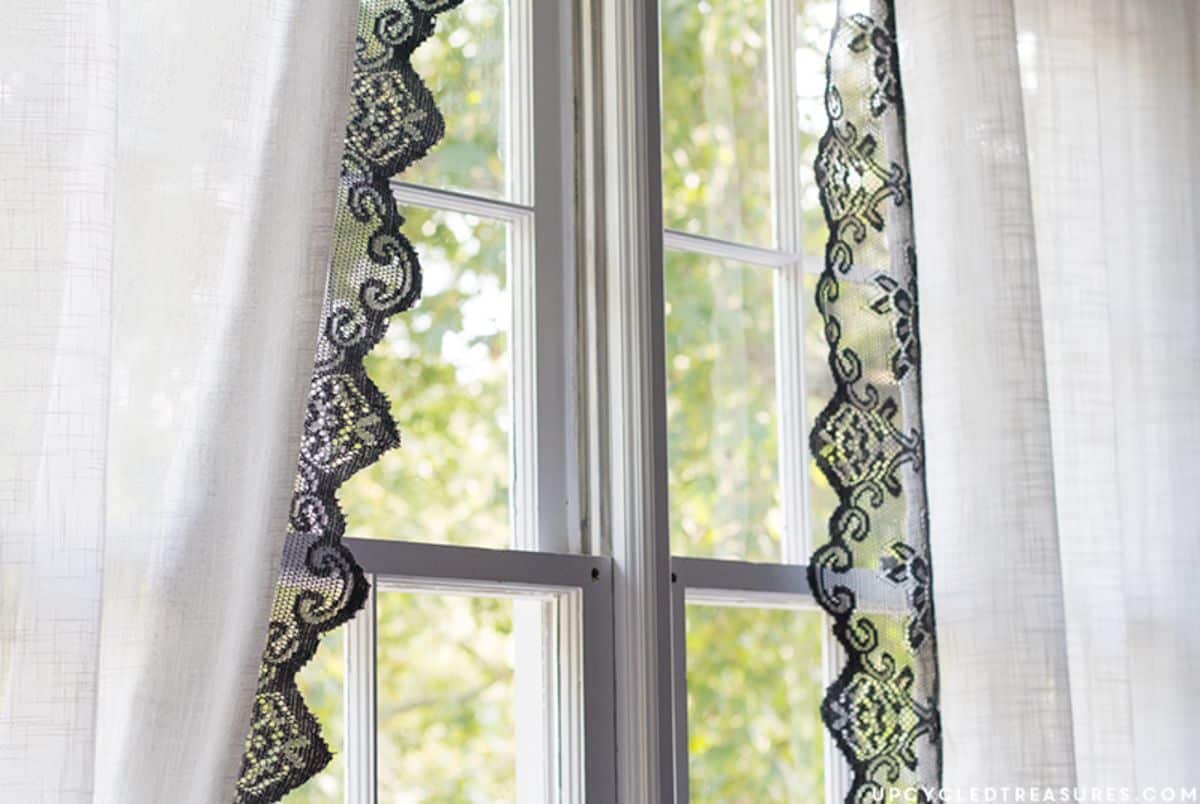 Turn leftover lace runners into luxurious curtains. They not only add a romantic flair to your master bedroom but also serve as a cost-effective alternative to pricier options. Great for a chic, budget-friendly home makeover.
51. DIY Inspirational Farmhouse Wood Signs
Brighten your walls with these DIY farmhouse wood signs that come with inspiring quotes. Equally suitable for living rooms or home offices, they contribute to a nurturing environment that encourages positivity.
52. Large Wood Wall Art
This piece, crafted from recycled wood scraps, serves as an art statement and a conversation starter. Ideal for those who appreciate the beauty and texture of repurposed wood, it brings depth and personality to any room.
53. DIY Rustic Woodland Boy Nursery Decor
If you're expecting or know someone who is, this DIY rustic nursery décor uses reclaimed wood to create a cozy woodland atmosphere. It's an exciting project that adds unique character to your child's new world.
54. DIY Flower Wall
Who doesn't dream of a wall filled with flowers? This DIY project offers a long-lasting alternative to fresh flower walls by using fake blooms. You'll love how this floral addition brightens up any room.
55. DIY Boho Yarn Wall Art
If the yarn bug has bitten you, this project is a soul-soothing exercise. Perfect for baby showers or your own living space, this boho yarn art enhances the room with its earthy, serene vibes.
56. Rustic Nursery Book Frame
This rustic frame is not your typical picture display. It holds pages from your favorite storybook or children's artwork, making it an emotionally resonant addition to a child's room or family space.
57. DIY Giant Letter Board Wall Holiday Wreath
As the holidays approach, this oversized letterboard wall wreath could be the centerpiece of your festive decor. Simple yet impactful, it aligns well with a minimalistic aesthetic, making your holiday setup less stressful.
58. Family Wood Scrabble Wall Art
Spell out your love for family with this Scrabble-inspired wall art. This project fills empty wall space and serves as a fun, engaging way to celebrate your family's unique names and personalities.
59. Creative Wooden Wall Signs
Infuse personality into your living space with unique wooden signs crafted from old wood. The signs carry an air of history and character, making your home feel truly one-of-a-kind.
60. DIY Woven Wall Hanging
Weaving isn't as daunting as it may seem. This DIY guides you step-by-step, allowing you to create your own woven wall hanging, even if you've never worked with yarn before. It's a fun skill you'll love acquiring.
61. DIY Fabric Map Art
Whether you're feeling homesick or you just love cartography, this fabric map art is a charming way to personalize your space. It adds a sense of place to any room and makes a meaningful conversation starter.
62. Upcycled Painted Privacy Screen Wall Décor
This repurposed screen provides a clever way to fill an empty wall while offering privacy. It's a win-win for both aesthetics and functionality in your home.
63. DIY Wooden Bead Pendant Light
This project adds a stylish yet playful touch to a nursery. The use of wooden beads and a vintage bulb offers a charming blend of modern and rustic styles, perfect for welcoming a new life.
64. Driftwood Fish Twig Ornament
This driftwood fish ornament brings a splash of the sea to your living space. You'll enjoy its beachy vibes, making it a perfect addition to a bathroom or coastal-themed room.
65. DIY World Map Wall Art
If you're decorating a nursery and love to travel, this world map wall art is a delightful addition. It's both educational and aesthetically pleasing, offering a great talking point for when visitors come over.
66. Patchwork Rustic Stars
Celebrate the festive season or simply bring a rustic flair to your home with these handmade wooden stars. They're versatile and can stand on a table or hang on a wall, fitting into a variety of spaces.
67. Pallet Board World Map
Not just for travel buffs, this pallet board world map is an engaging project that adds a geographic charm to any wall. It also offers you a chance to put your stamp on your workspace or home.
68. Macramé Feather Wall Decor
Ideal for those with varying skill levels, this feather wall decor made from macramé rope adds a soft, natural touch to your home. It perfectly balances modern and bohemian elements.
69. DIY Fabric Wall Hanging for Boho Bohemian Wedding Backdrop
If you're planning a wedding or love the bohemian aesthetic, this fabric wall hanging provides an easy and beautiful backdrop. It allows you to bring your color scheme to life in a unique way.
70. Oversized Boho Yarn Tapestry
You don't need to be an expert at sewing to create a striking wall hanging. This oversized boho yarn tapestry adds warmth and texture to your home, offering both a crafty challenge and a design payoff.
71. DIY Wall Art Citrus Stripes
Feeling like your room needs a burst of color and freshness? This fruity wall art brings a summer vibe into your living space, making it more lively and inviting.
72. DIY Jute Rope Love Sign
Add a romantic touch to your home with a jute rope sign spelling out the word 'love.' It's the perfect way to express sentiment and make your walls more engaging subtly.
73. Extra Large Rustic Pom Pom Wall Hanging
If you have a soft spot for the '70s, this pom pom wall hanging is right up your alley. Crafted with big, fluffy pompoms, it's a unique way to add retro flair to your home.
74. DIY Boho Wall Decor with Dried Grass
In need of a creative outlet? This boho wall decor incorporates dried grass for a low-cost, nature-inspired piece that also brings tranquility to any room.
75. Boho Flower Wall Hanging Made From Egg Cartons
Looking for an eco-friendly craft? This wall hanging, crafted from egg cartons, delivers an unexpected yet stunning visual appeal. It's not just about recycling; it's about transforming waste into wonder.
76. DIY Mandala Wall Hanging
If bohemian aesthetics resonate with you, this DIY Mandala Wall Hanging is your passport to a more eclectic living room. Infused with intricate designs and textures, it refreshes the space without overwhelming it.
77. DIY Photo Wall Hanging
You'll adore how this DIY brings your cherished smartphone photos into the real world. Displaying them on a modern wall hanging gives a creative twist to your typical framed memories.
78. Wood Slice Wall Art
With this rustic yet contemporary project, you'll marvel at each wood slice's natural tree ring patterns. It adds a naturalistic touch to any wall and is sure to spark conversations.
79. Logs into Affordable Wall Art
Love rustic charm? This simple log installation uses removable adhesive strips to mount, making it ideal for homes with plaster walls that can't handle nails.
80. Artistic Hallway Gallery Wall Art
Transform your hallway into a chic art gallery. Utilizing wooden blocks and paint, this project brings a modern touch to your passageway, offering a visual treat for guests.
81. DIY Pallet Wood Sign
If you love customizable décor, this project is perfect. With just a few supplies, you'll have a hand-painted sign that reflects your own personality and color preferences.
82. DIY Wood Quilt Wall Art
Perfect for the sentimental and eco-conscious, this quilt-inspired wall art recycles wood scraps into something stunning. A tribute to traditional quilting, it adds both texture and history to your space.
83. DIY Pallet Plaques
When you need a versatile backdrop for your favorite artwork or photos, these rustic pallet plaques are a no-brainer. Their shabby-chic style complements a variety of design tastes.
84. Hanging Banner With A Quote
If your wall needs a motivational uplift, a hanging quote banner offers daily inspiration. It's an elegant yet simple decor choice, ideal for anyone looking to make a quick change.
85. DIY Clay Wall Hanging
Indulge your creative flair with this clay wall hanging. The soft blush and gold accents give it an elegant boho appeal that makes any wall pop.
86. Farmhouse Style Staircase Gallery Wall
For those seeking an evolving home aesthetic, this staircase gallery wall keeps your home in a constant state of design renewal. It's perfect for showcasing items that have special meaning to you.
87. DIY Hanging Free Library
This front-yard library project blends both if community and literature are close to your heart. It invites neighbors to share the joy of reading and fosters a sense of communal spirit.
88. Pallet Wall Art
Why settle for a blank wall when you can showcase unique and warm pallet art? This project can be tailored to your taste and needs no additional wall décor.
89. DIY Large Scale Wall Hanging on A Budget
This project allows you to make a statement without emptying your wallet. The large wall tapestry fits various interior styles and fills empty wall spaces elegantly.
90. Scandinavian Wall Art DIY
Mix hippy vibes and Scandinavian minimalism with this delightful wall art. It's a versatile project that's as enjoyable to make as it is to display in your home.
91. DIY Arrow Decor
This arrow decor project uses foam for a lighter, easy-to-manipulate alternative to wood. It's fantastic for adding a rustic touch to any room, plus the foam makes it easy to customize sizes and colors.
92. Large Rustic Clock
This oversized rustic clock isn't just a statement piece; it's also functional. Made as an homage to Pottery Barn's design, the clock actually works and will surely leave your guests impressed with your DIY prowess.
93. Reclaimed Wood Coffee Crate Lid Hanging Sign
This reclaimed wood sign doubles as a quaint coffee station. It's not just about aesthetics; it's a practical space-saving solution for your morning coffee rituals.
94. Geometric Himmeli Heart Tutorial
If you've already dabbled in geometric wreaths, then you'll adore this Himmeli heart. It brings an eye-catching geometric element into any space and has a romantic charm that will make you smile whenever you pass by.
95. DIY Wooden Arrows
The weathered look of reclaimed wood adds instant rustic appeal to these DIY wooden arrows. And the best part? The wood may well be free if you look in the right places, like grandma's old shed.
96. DIY Colorful and Rustic Wall Art
If you're looking to personalize your living space, this colorful and rustic wall art is ideal. Perfect for adding a pop of color to your daughter's college apartment or any other room in your house.
97. DIY Boho Wall Decor Idea for Living Room on a Budget
This yarn wall hanging adds bohemian flair to your living room and is surprisingly simple to make. It's a fantastic option if you're looking for an easy, budget-friendly update.
98. Handmade Family Rules Wood Wall Décor Large Statement Piece
This handmade sign serves as a constant reminder of family values and as an heirloom piece. The uniqueness of each sign makes it a special addition to any family home.
99. DIY Feather Wall Hanging
For those looking to add some whimsy to their decor, this feather wall hanging is a simplified dream catcher alternative. The gold ombre effect offers a luxurious feel, making it a great fit for both summer and fall.
100. Dollar Store Fall Decor DIY
Focusing on natural elements like leaves, this Dollar Store project allows you to create elegant fall decor on a budget. The chalk-painted frames ensure that the pressed leaves remain the star of the show.
101. Dollar Store Cotton Wreath
This budget-friendly wreath is perfect for seasonal decoration. The small grapevine wreath can easily be adorned with cotton bolls and berry sprigs, offering a farmhouse aesthetic.
102. Kitchen Floating Live-Edge Shelves
Adding these live-edge shelves to your kitchen increases storage space and adds an organic, rustic element. It's a functional yet aesthetic upgrade, especially for those looking to get rid of bulky cabinets.
103. Geometric Heart DIY Wall Art with Popsicle Sticks!
This project breathes life into bare walls with geometric heart art made from popsicle sticks. It adds visual interest without requiring expensive supplies, perfect for post-holiday decorating.
104. Macrame Rainbow Wall Hanging
This beginner-friendly project serves as both an artistic expression and a pop of vibrant color for any room. With simple square knots, you can instantly create a whimsical addition that lifts the mood.
105. Popsicle Stick Hexagon Shelf
This innovative popsicle stick hexagon shelf introduces a geometric flair to your space. It's a stylish way to display your favorite knick-knacks and won't break the bank.
106. DIY Boho Tassel Wall Hanging
For those who gravitate toward bohemian aesthetics, this wall hanging offers a chic flair using only yarn. It's not just about style; it brings a soft texture that makes any room feel more welcoming.
107. DIY Embroidery Hoop Wall Art
If you have a large expanse of walls that you'd like to spruce up, this embroidery hoop wall art provides an elegant solution. This project lets you unleash your creativity while filling the space with personalized art.
108. Air Plants + String Art = Living Wall Art!
This project merges natural elements with string art, giving your home an eco-chic vibe. It's perfect for those who love greenery but want to skip the fuss of regular watering schedules.
109. Coastal Pallet Art: Taste of the Frontier
Want to bring the beach to your living room? This coastal pallet art is the ideal way to infuse your space with a touch of oceanic charm, and it only takes 30 minutes to make.
110. Your Own Macrame Curtain
If you're looking to hide a closet or storage space without installing heavy doors, a macrame curtain offers a chic alternative. You can easily conceal the clutter while adding a boho-chic element to your room.
111. Braided Mirror DIY
Tired of that dull, old mirror? Braid some accents around it for a quick and removable makeover. It's a subtle but effective way to refresh a functional piece in your home.
112. Arrow Wall Decor
This project allows you to create a set of wooden arrows that serve as excellent focal points or complementary pieces on a gallery wall. It's a versatile choice for any rustic or modern home.
113. DIY Wood Pallet Arrow
A wood pallet arrow adds rustic charm to your living space and also serves as a great addition to a gallery wall. The repurposed material gives it an authentic, vintage feel.
114. Add Layers to Your Macrame Wall Hanging
Macrame wall hangings with multiple layers offer a rich tapestry of design and texture. They fill up empty wall space and serve as a dynamic focal point that invites closer inspection.
115. DIY Photo Clipboards
This clipboard-style photo display offers a casual yet effective way to showcase your favorite memories. It's ideal for narrow spaces and offers a rustic touch to your interior decor.
116. DIY Wood Wall Art
This project is ideal for injecting some personality into your home's awkward nooks and crannies, such as the area above your dresser. Say goodbye to uninspired decor; this DIY brings visual appeal to any space.
117. DIY Farmhouse Style Rustic Wood Flag
You'll love the freedom to customize your rustic flag's colors and materials. Whether it's a neutral palette or patriotic hues, this versatile creation can charmingly represent your style and pride.
118. Old Window Wall Art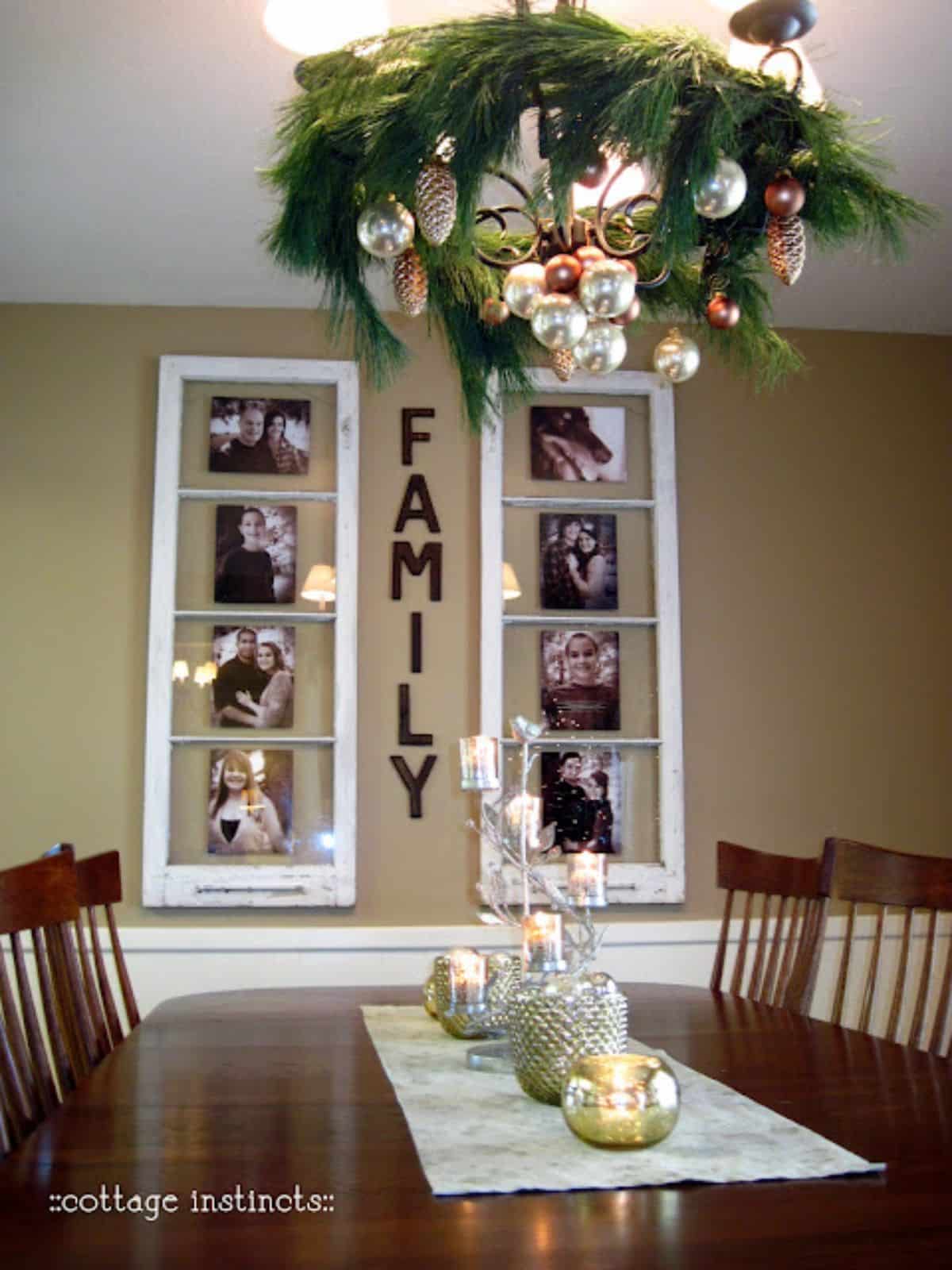 Utilizing old windows as wall art solves the dilemma of decorating large, empty spaces. With this project, you can repurpose antiques while adding a dash of authenticity to your home.
119. DIY Industrial Farmhouse Bathroom Sign
This bathroom sign provides a practical yet stylish solution to a common problem. Combining industrial and farmhouse elements, it's a great reminder for both kids and adults to maintain bathroom etiquette.
You can create rustic embossed metal heart art to introduce contrasting textures into your living space. The metallic sheen paired with dark-stained wood makes for a visually appealing piece.
Creating a rustic wall plaque using galvanized steel and reclaimed wood lets you express your creativity. Whether representing your last name or home state, this piece is a keepsake you'll cherish.
122. Reclaimed Wood Heart Art
This project lets you satisfy your creative urges with vibrant colors and reclaimed wood. The end result is a wooden heart art piece that adds a touch of whimsy to any room.
123. Rustic Wall Accents
Featuring an array of decorations, this collection helps you fill your walls with rustic elegance. Each piece offers its own unique way to accentuate your home's existing design elements.
124. Cork Wall Art
Utilize wine corks in a tasteful way to create a unique wall piece. Not just for behind your dartboard, this cork art offers a fresh approach to recycling in home decor.
125. DIY Indigo Wall Art With Framed Fabric
By framing indigo fabric, you can instantly revamp a wall with a pop of color and texture. This is perfect for spaces that could use an effortlessly chic upgrade.
126. Simple and Inexpensive Decorative Shutters
These easy-to-make shutters spruce up your dining area with minimal effort and materials. It's an excellent way to introduce rustic elements without breaking the bank or spending too much time.