Our living spaces should be sanctuaries of simplicity and functionality, yet too often, they succumb to the chaos of clutter. Is your home a battleground of disarray? If so, fret not because in this article, we're diving into the world of transformative shelf ideas and products that will revolutionize the way you organize your living space.
No matter the size or layout of your space, we've curated this list to cater to your unique needs and design preferences. Bid farewell to cluttered countertops, overstuffed closets, and cramped living areas. It's time to take back control of your home, one shelf at a time, and transform chaos into tranquility.
Jump to:
1. Convertible Table Shelf
This DIY convertible shelf seamlessly transforms from a functional table into an elegant storage solution. It maximizes versatility and adds style to your home, making it perfect for small spaces.
2. Flex Shelf
This product from Story Store effortlessly adapts to your changing needs, offering customizable shelving options. It's a modern way to keep your space organized and visually appealing.
3. Transforming Shelf / Workbench
This DIY shelf doubles as a sturdy workbench. Ideal for DIY enthusiasts, it saves space and simplifies your projects, making your workspace more efficient and organized.
4. ALWEEN Convertible Dining Table/Shelf
You can quickly convert your dining table to a utility shelf and back again with this cool, space-saving, transformable table. This shelf/table is perfect for small apartments and rooms that need to maximize the space.
5. Brefhome Convertible Bookshelf Desk & Dining Table
This ingenious Brefhome piece serves as a bookshelf, desk, and dining table, all in one. It's a game-changer for small apartments, offering practicality and style in a single package.
6. Transforming Workbench & Storage
This DIY project combines a workbench and storage shelves into one space-saving solution. It streamlines your workspace, making it easier to tackle your projects with ease.
7. Folding Workbench with 3 Shelf Plan
This DIY folding workbench comes with three shelves for extra storage. It's a great addition to your garage or workshop, providing ample space for tools and materials.
8. Wall-Mounted Convertible Shelf And Table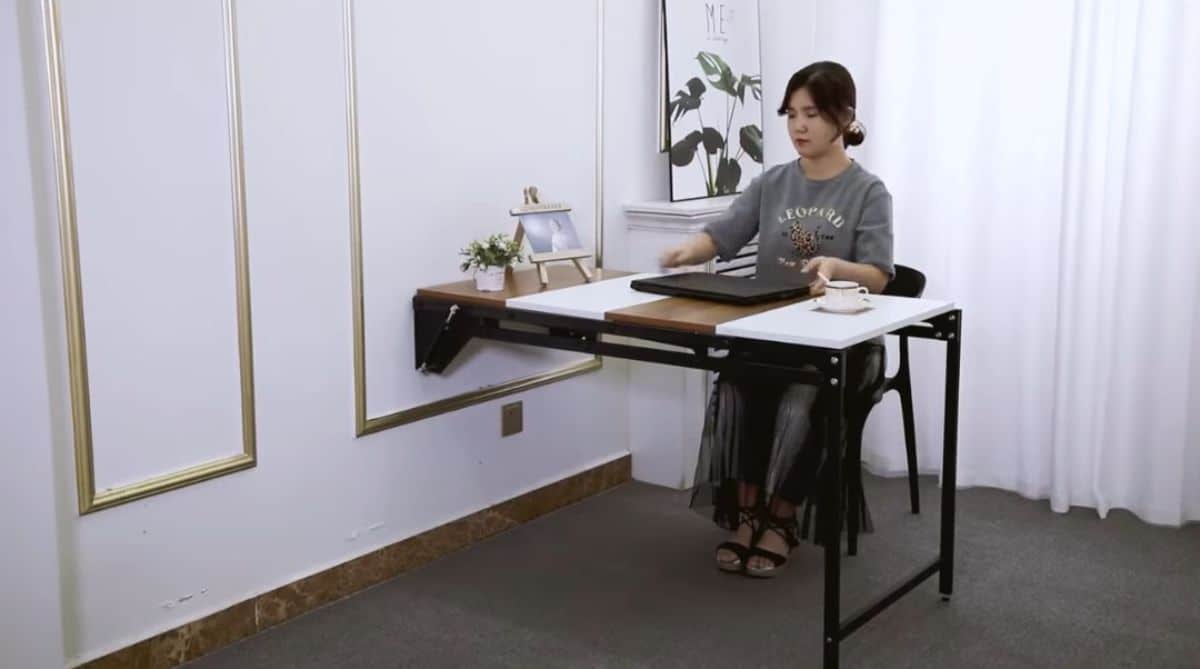 This wall-mounted shelf ingeniously transforms into a functional table, making it perfect for small kitchens or dining areas. It's a space-saving solution with a touch of elegance.
9. HCHQHS 3-Tier Industrial Open Book Shelf
This industrial-style open bookshelf from HCHQHS adds a touch of sophistication to any room. Its 3-tier design offers ample space for your books and decor, combining style with practicality.
10. A Shelf That Easily Transforms Into a Temporary Desk
This DIY shelf is a lifesaver for those who need a quick workspace. It easily transforms into a temporary desk, providing a convenient solution for remote work or study.
11. 2-in-1 Convertible Shelf to Table with Wheels
If you're looking for a versatile piece, this convertible shelf is a game-changer. It effortlessly transforms from a stylish shelf to a portable table, making it perfect for hosting gatherings.
12. Amazing Shelf To A Dining Table
This shelf-to-dining table is a must-have for modern homes. It provides an elegant solution for those tight on space, seamlessly transitioning from a storage unit to a functional dining area.
13. XWZJY Folding Ladder Chair Transforming Shelf
The XWZJY folding ladder chair takes versatility to new heights. It's not just a shelf; it's also a chair and a ladder. This multifunctional piece is perfect for small spaces and DIY enthusiasts.
14. Dining Table Transforms To A Five-Layer Bookshelf
This dining table's clever design transforms it into a five-layer bookshelf when not in use. It's a practical solution for bibliophiles needing a dining area and ample book storage.
15. Yoluckea Convertible Shelf Table
Yoluckea's convertible shelf table offers space-saving magic. It transitions effortlessly from a shelf to a convenient table, catering to your needs without compromising style.
16. Folding Table Wall Cabinet
This folding table wall cabinet is perfect for those tight on space. It discreetly conceals a table within a wall-mounted cabinet, giving you a handy workspace that's stylish and space-efficient.
17. Space Saving Convertible Shelf Table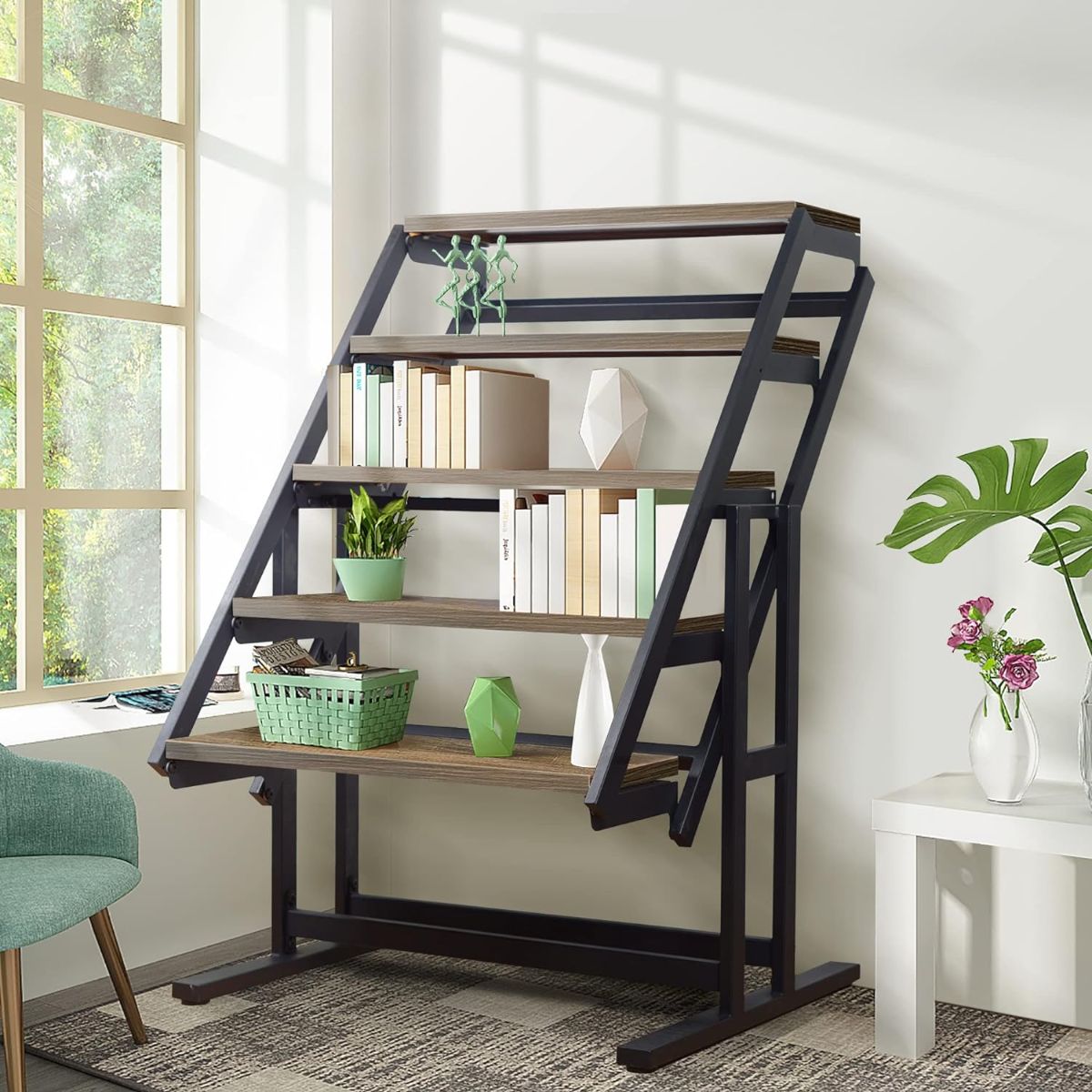 If you want to optimize your living space, this space-saving convertible shelf table is your solution. It morphs from a shelf to a table in seconds, making it ideal for small apartments.
18. DIY Convertible Shelf Table
Get your DIY skills ready for this convertible shelf table project. It allows you to craft a custom piece that suits your space and needs, seamlessly transitioning between storage and a table.
19. Swing Table Shelf
This swing table shelf adds a playful touch to your interior. It swings out to become a table, providing a functional element to your space, perfect for those who enjoy a touch of whimsy.
20. DIY Collapsible Folding Shelves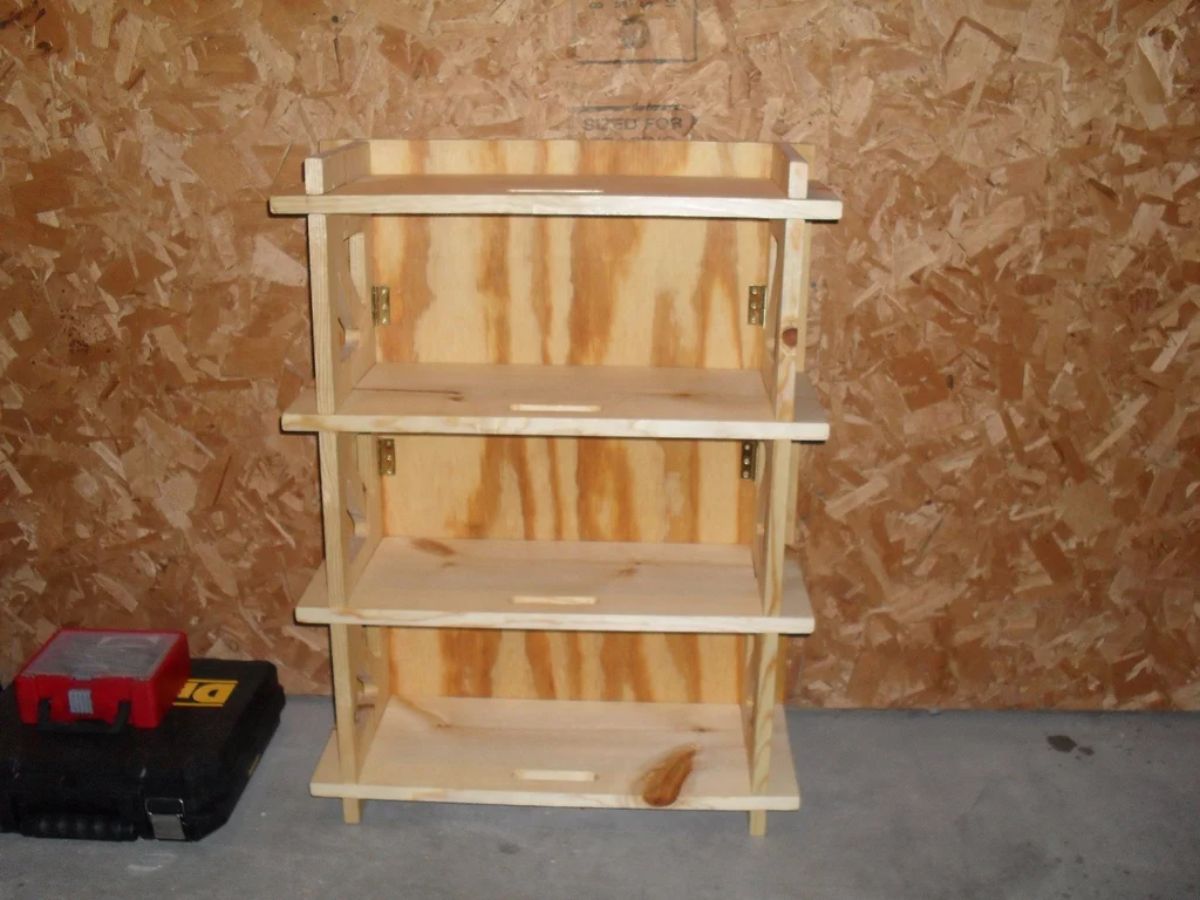 If you're seeking an organizational solution, these DIY collapsible shelves are your answer. They're perfect for optimizing storage while allowing you to showcase your DIY prowess.
21. Shelf to Table in Seconds
You can transform your shelving into a functional table in a matter of seconds with this innovative design. It's the ideal solution for impromptu gatherings or creating a dynamic living space!