Are your walls yearning for a touch of creativity without the clutter? The desire for simplicity often clashes with the impulse to adorn our living spaces, leaving us stuck in an aesthetic limbo. No worries, we've got you covered!
So, whether you want to showcase the rustic charm, modern chic, or something uniquely you, you'll find a project here to resonate with your style. Each idea is not only visually captivating but also budget-friendly, proving that elegance need not be extravagant.
Less will truly become more as you turn your walls into minimalist masterpieces.
Jump to:
1. DIY 3D Minimal Wall Art
Elevate your living space with this 3D geometric wall art, perfect for adding modern flair to any minimalistic setting or as a standout piece on a gallery wall.
2. DIY Wall Clock
This minimalistic wall clock seamlessly integrates into various home styles, making it an effortlessly stylish and functional addition to spaces ranging from apartments to two-story houses.
3. DIY Paint Swatch Art
This is an accessible art project that uses paint swatches for a splash of chic minimalism. Ideal for adding a hint of color to a monochrome hallway or complementing your mantel.
4. Large Wood Game Room Wall Decor
You can enjoy nostalgia and modern design with this wooden game-themed art. It serves as both a conversation starter and an engaging activity for gatherings, making your living space both beautiful and functional.
5. Shower Curtain into Beautiful DIY Wall Art
Transform an attractive shower curtain into a bold piece of art that fills large empty wall spaces. It's an unconventional yet captivating idea that brings a unique flair to your decor.
6. Instant DIY Napkin Wall Art
Elevate your living space with this budget-friendly, quick-to-complete art made from patterned paper napkins. It's an easy way to introduce intricate designs to your walls without breaking the bank.
7. DIY Leaf Art
This easy project enables you to bring a touch of natural elegance into your home. Whether you choose to weave palm leaves or frame them as-is, the greenery adds serenity to your interior.
8. Easy Minimalist DIY Wall Art In Earthy Neutrals
Express your inner artist with just a few brushstrokes. You'll create an abstract piece in earthy tones that easily complements any minimalist setting without requiring expert art skills.
9. DIY Minimalistic Paper Art
Enhance your home with embossed paper art. The contrasting paper types and textures lend sophistication and a tactile appeal to any minimalist decor.
10. DIY Pillow Sham Into Modern Art
Discover the hidden potential of a pillow sham as a modern geometric canvas. A few lines and a splash of color can effortlessly transform your wall into a gallery.
11. DIY Oversize Textured Wall Art
Capture the essence of Scandinavian comfort with shearling-backed, color-blocked art. This cozy masterpiece can bring a touch of Nordic minimalism to your home.
12. DIY Modern Chic Plywood Clock
Opt for a functional yet stylish plywood clock with minimalist "hands" but no numbers with this DIY. It's a timeless addition that brings warmth to your modern space.
13. HOMFINER Decorative Throw Pillow Covers for Couch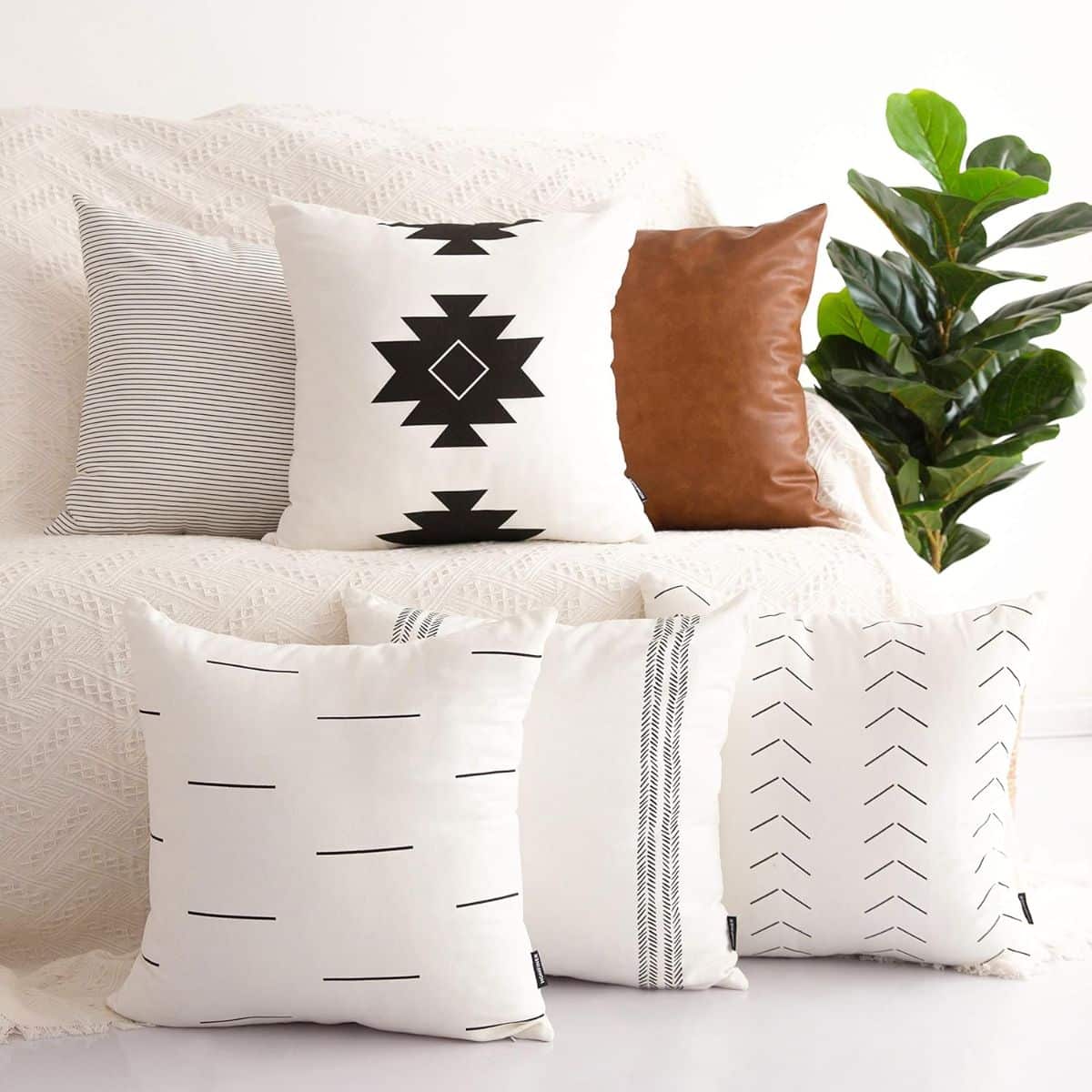 These high-quality neutral pillow covers lend a designer touch to your couch or bed. The versatile designs fit effortlessly into any setting, elevating the room's aesthetics.
14. DIY Circle Punch Art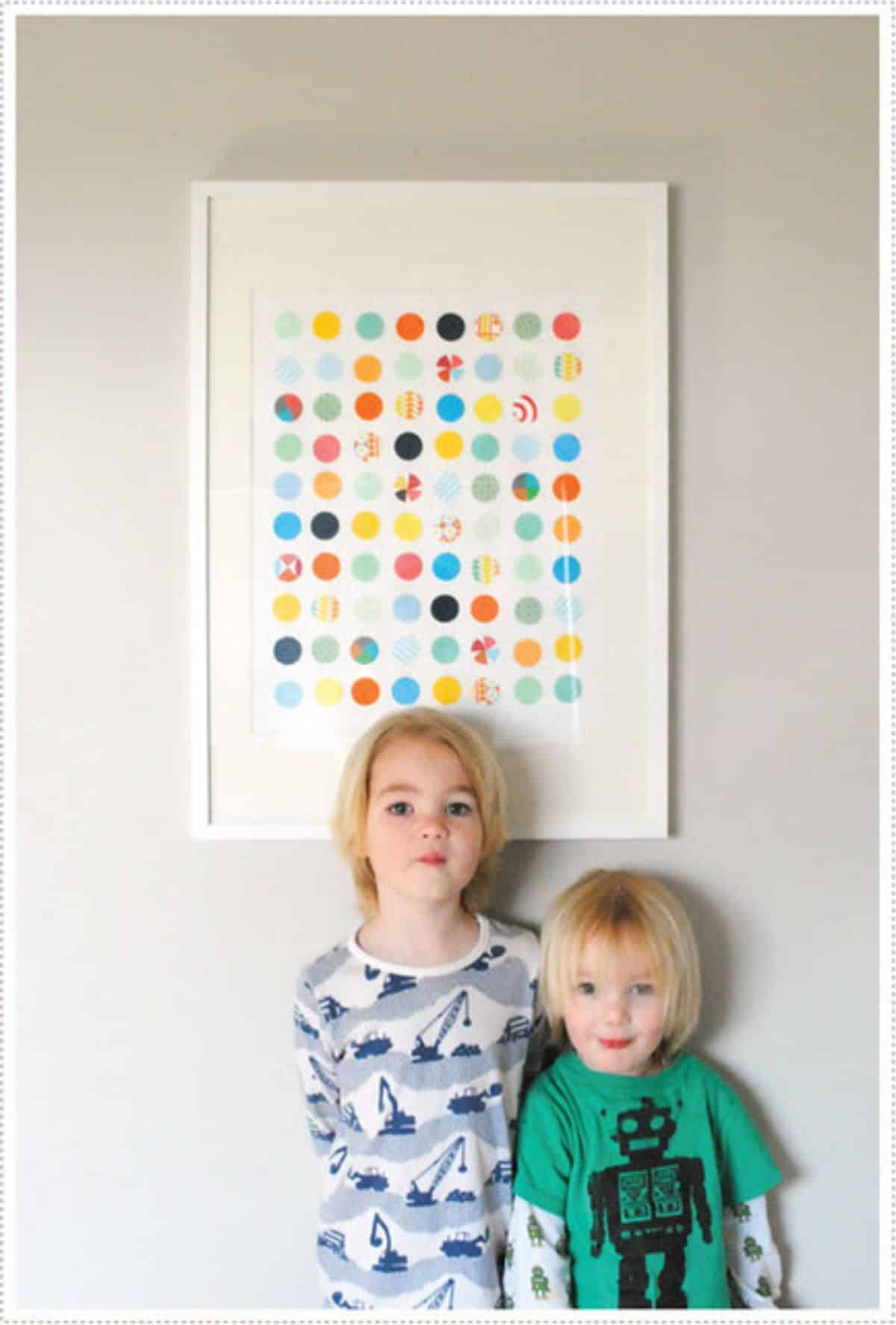 You'll adore how this project enables you to blend various prints and textures in a restrained layout, perfect for those leaning toward minimalism. With just paper and a circle punch, it's virtually foolproof.
15. DIY Floral Wall Vase Decoration From an Old Jar
Yearning for a rustic touch on your walls? This DIY transforms old jars into vases, offering a charming and cost-effective way to display artificial flowers.
16. DIY Large Scale Wall Art from a Shower Curtain
Longing for a statement piece? This DIY repurposes a shower curtain into large-scale art, offering a captivating yet budget-friendly alternative to pricier options.
17. DIY Wooden Mosaic Wall Art
This project offers an avant-garde twist to wall decor, satisfying your artistic impulses with wooden mosaic pieces. It radiates understated sophistication without breaking the bank.
18. DIY Beautiful Denim Floral Door Wreath
This upcycling project transforms worn-out jeans into a chic wreath. While not strictly wall art, it could easily adorn a wall, offering a minimalist yet rustic farmhouse vibe.
19. Decorative Popsicle Stick Hexagon Shelf
Looking to add functional art to your walls? This hexagon shelf does it for a fraction of the cost of store-bought alternatives, utilizing popsicle sticks for a minimalist charm.
20. DIY Clay Wall Art
You'll appreciate the tactile richness of this clay and twine creation. It combines sculptural forms with organic textures, offering a minimalist touch that bursts with character.
21. DIY Framed Acorn Cap Squirrel
Cherish the simplicity and childlike wonder this acorn cap squirrel brings. This project is not only minimalistic but also a fun activity for kids, requiring only basic supplies.
22. DIY Affordable Modern Art Using Scrapbook Paper
Unleash your creativity with a fusion of pattern and color. This project utilizes scrapbook paper to make personalized, minimalist art that aligns seamlessly with your decor.
23. DIY Pressed Flower Keepsake Frames
Relish the everlasting beauty of nature by pressing flowers for framed wall art. This technique breathes life into botanical elements, making it a perpetual centerpiece for your walls.
24. DIY Painted Circle Shelf
Enjoy the geometric playfulness of this project, which adds a painted circle behind a floating shelf. It's a simple tweak that enlivens your space with minimalist artistry.
25. DIY Fringe Wall Hanging
This fringe wall hanging adds textural variety to your interior. Though it may seem intricate, the project is straightforward and gives a pop of color to any minimalist space.
26. DIY Abstract Painting
You don't need to be a seasoned artist to create this abstract wall art. This project encourages you to explore shapes and colors, ending up with a minimalist piece that's uniquely yours.