Whether you're blessed with a sprawling outdoor space or restricted to a cozy apartment, the joy of cultivating your own herbs should never be out of reach. However, limited square footage or not-so-sunny spots can sometimes hamper your horticultural dreams.
But here's the good news: you can still embrace the gardener within you by exploring vertical gardening options.
In this article, we'll present 39 inventive indoor and outdoor wall herb garden ideas to elevate your space – literally. From DIY vertical plant stands that fit between fences to hanging gardens that transform your patio or office wall into a verdant canvas, you'll find an array of options to suit your needs and aesthetics.
Jump to:
1. Self-Watering Wine Bottle Herb Garden
This DIY project is a charming way to grow herbs on your kitchen windowsill without worrying about watering schedules. It's convenient for those who often forget to water their plants and want to upcycle old bottles.
2. Hanging Planting Flower Boots
Using old boots as hanging planters makes for a delightful entry into your garden. This project adds a whimsical touch that keeps your flowers away from garden pests while capturing the imagination of kids.
3. Mason Jar Vertical Herb Garden
With its compact design and easy setup, this mason jar garden project is ideal for small spaces. It provides a practical and organic way to cultivate herbs indoors, adding life to your home decor.
4. 3-Tiered Pallet Wood Hanging Herb Garden
This rustic herb garden made from repurposed pallet wood offers vertical storage, saving space in small backyards. It's also an eco-friendly project that gives new life to discarded materials.
5. More Vertical Pallet Herb Garden Ideas
These garden projects show the wide variety of ways you can repurpose pallets to create vertical gardens. Ideal for space-saving, these DIY ideas are also a cost-effective and sustainable choice for your garden.
This project combines function and style, turning old toolboxes into chic vertical gardens. It's a space-saving solution for those who've always wanted an indoor herb garden but never had the room.
7. Old Funnels as Country Garden Containers
Transform old funnels into unique, rustic planters for your garden. These hanging planters add a charming vintage touch and make use of otherwise overlooked items.
These DIY hanging planters made from IKEA items are affordable and customizable. They bring greenery into any room, adding a touch of nature to your living space.
9. Nautical Paint Can Wall Herb Garden
By repurposing paint cans, you can create a nautical-themed wall garden that's as stylish as it is practical. This project is an affordable way to keep fresh herbs within arm's reach in your kitchen.
10. Tin Can Hanging Flower Garden
This colorful outdoor project spruces up drab fences and adds curb appeal to your home. The cans are easy to customize, offering endless color combinations to match any decor.
11. Wall Box Indoor Herb Garden
The WallBOX is a sleek, Danish-designed planter perfect for modern homes. It offers a neat and simple way to grow herbs or decorative plants vertically, making it ideal for apartments with limited space.
12. Indoor Herb Garden With Planter Hooks
The versatility of this herb garden is a lifesaver for small kitchens. Using Sugru to attach hooks, you can grow your herbs on walls or backsplashes without any drilling. It's ideal if you're going through a kitchen renovation.
13. Mason Jar and Fence Board Vertical Herb Garden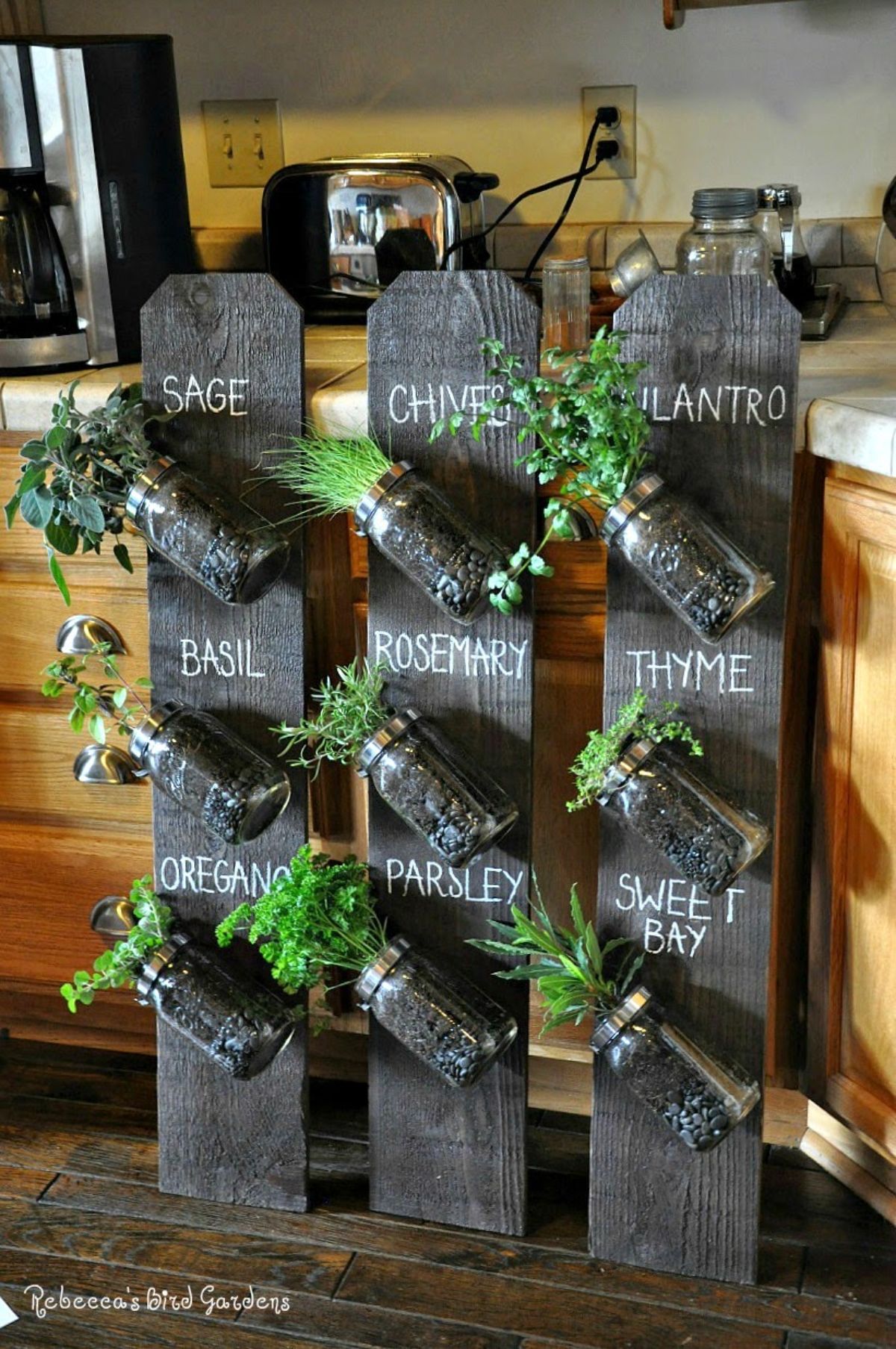 This visually pleasing DIY vertical garden offers a rustic touch. With clear steps and common materials like mason jars and fence boards, you can have a space-efficient herb garden right in front of a sunny window.
14. Hanging Window Plant Shelf
Handcrafted with quality pine wood, these shelves bring the outdoors inside. Whether it's a sunny window or a wall, you can enjoy a small forest of your favorite potted plants.
15. DIY Vertical Garden With Soda Pop Bottles
This vertical garden is a sustainable and crafty project that repurposes soda bottles for growing herbs or small plants. It's a creative and eco-friendly way to green up your living space.
16. Vertical Hanging Garden Using Coca Cola Cans
If you thought soda cans were just for recycling, think again. With this inventive DIY, Coca-Cola cans become the pots for your vertical garden. It adds a touch of pop culture to your greenery!
17. 10-Piece Hanging Flower Pot
Bright and colorful, these metal iron pots are perfect for adding vibrancy to your garden. The detachable hooks make it simple to arrange them on any outdoor fence or balcony railing.
18. Pocket Shoe Garden
Addressing the issue of limited garden space, this hanging pocket shoe garden is an ingenious way to grow veggies and herbs. It's a godsend if you're grappling with nosy cats or cramped outdoor areas.
19. Hex Wire Wall Garden
This hex wire wall garden adds geometric flair to your outdoor space. As an alternative to a traditional wall, it serves dual purposes by enhancing privacy while also providing an elegant platform for your plants.
20. Recycled Water Bottles Vertical Garden
Perfect for the eco-conscious gardener, this vertical garden uses repurposed water bottles and is powered by a solar and wind energy system. The automatic watering feature ensures that your plants remain hydrated without constant attention.
21. Lampshades as Hanging Herb Baskets
This inventive use of lampshades as hanging herb baskets combines aesthetics and functionality. The repurposed lampshades serve as elegant and unconventional planters, perfect for adding a touch of whimsy to your garden.
22. Window-Mounted Curtain Rod Hanging Garden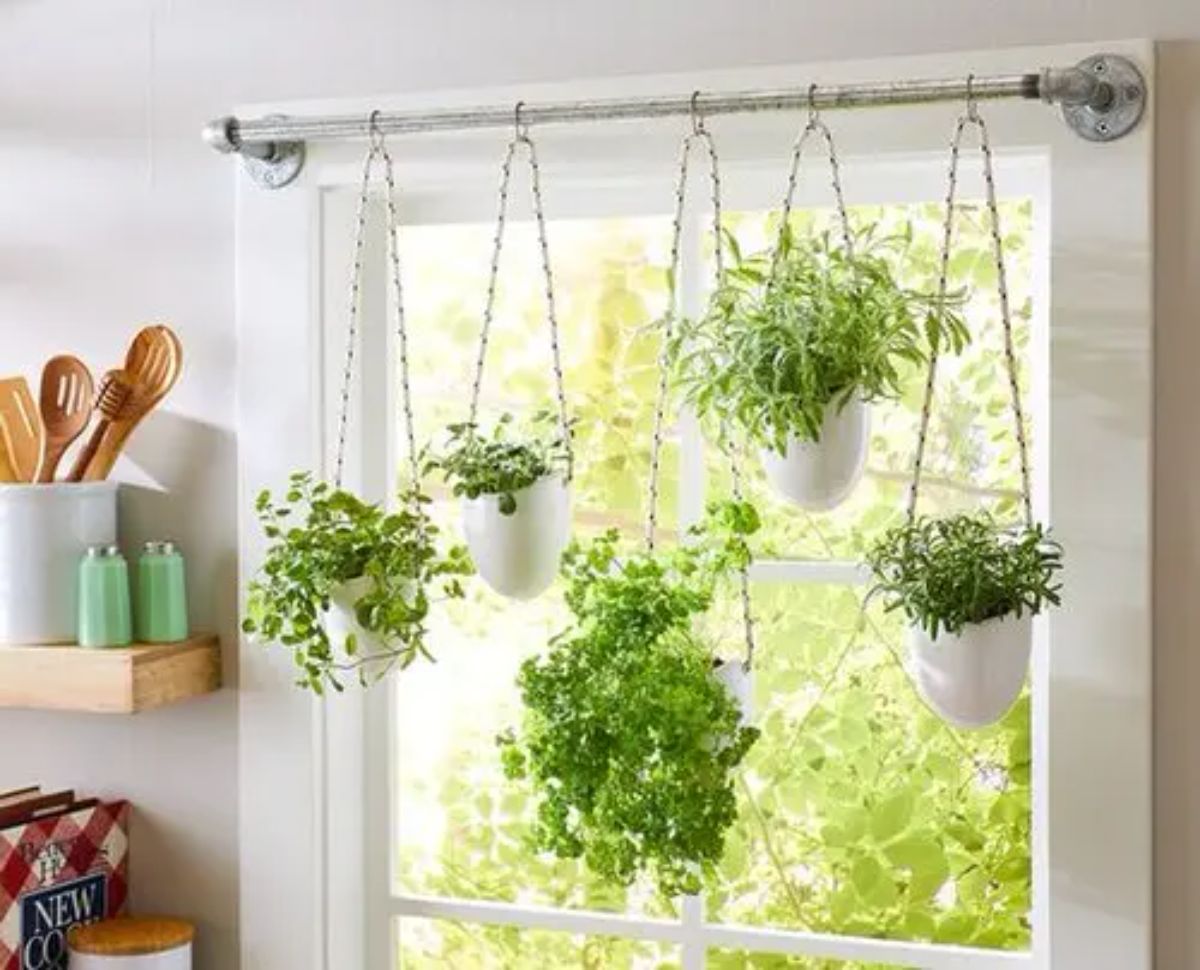 This curtain rod hanging garden is a dream come true for cooking enthusiasts. The window-mounted design ensures that your herbs get ample sunlight, making it a practical and visually pleasing addition to your kitchen.
23. Wine Bottle Vertical Garden
This innovative wall system rotates plants between a sunny roof and a shadier indoor space, all housed in upcycled wine bottles. If you're into sustainability and culinary flair, this project bridges both worlds seamlessly.
24. Kitchen Wall Mount Herb Garden
If you're keen on tailoring your home's aesthetics, this customizable wall-mounted herb garden is for you. You can create a rustic or modern look to fit your kitchen perfectly with a choice of wood stains and twine.
25. Shop LaLa Wall Planter Hanging Herbs
This wooden wall planter isn't just a pretty face; it undergoes a high-temperature carbonization process for durability. Indoors or outdoors, you can maximize your space without compromising your floor area.
26. Wood Scraps Vertical Wall Planter
Unlock your creativity and put those leftover wood scraps to good use. This project is ideal for the eco-conscious person who loves transforming waste materials into a functional piece of art.
27. Cedar Wooden Terra Cotta Planter Garden for Indoor/Outdoor
It's all about versatility with these western red cedar hanging plant holders. Whether it's your patio or living room, they bring a touch of nature right where you want it.
28. Adorable, Minimalist Wall Bucket Floral Design
Revive cherished memories and repurpose decorative tins into wall planters. These minimalistic love buckets are perfect for those looking to add a whimsical, personal touch to their spaces.
29. Hanging Plant Grow Bags With 90 Pockets
Don't underestimate the power of felt; it can hold an entire garden! With 90 pockets, you'll have room for a diverse range of plants and even some additional storage.
30. DIY Vertical Plant Stand
This project offers a delightful solution for those with limited outdoor privacy. You can fill the gaps in your backyard with a vertical display of your favorite flora, adding both beauty and seclusion.
31. 6-Pocket Waterproof Hanging Garden for Courtyard or Office
With its tiered design, this hanging garden ensures your plants won't interfere with each other. The wool felt fabric aids in air circulation and moisture retention, making it a win-win for any green thumb.
32. Ammo Cans Vertical Herb Garden
Military meets gardening in this unique vertical garden featuring ammo cans and a redwood frame. It's for those who appreciate a fusion of rugged, industrial design with a soft touch of greenery.
33. Wall Hanging Herb Planters for Kitchen-
You can transform your bare kitchen wall into a lush herb garden. Crafted from high-quality mango wood and galvanized iron pots, it offers a perfect blend of rustic charm and modern utility.
34. Sticky Window Planters
Craving some greenery during the harsh winter months? This easy-to-install window herb garden offers a touch of spring year-round. All you need is soil, water, and a window to let the sun in.
35. Vertical Vases for Mini Indoor Garden
Bring a piece of nature into your modern home with these vertical vases. Created to meet the needs of urban dwellers, they offer a sustainable and stylish way to have a mini farm indoors.
36. Fabric Vertical Herb Garden for Small Space
Ideal for yards with towering trees that offer limited sunlight, this vertical herb garden makes the most of your available space. Plus, it's renter-friendly and can be easily moved or adjusted.
37. Colorful Hanging Colander Planters
These vibrant planters made from colanders add a dash of whimsy to your outdoor space. Lined with moss and filled with seasonal plants, they make for eye-catching hanging displays.
38. Copper Pipe Wall Hanging Planter
If you've hit a decor roadblock, this copper pipe hanging planter offers a stylish way to rejuvenate your dining room. It perfectly complements modern copper tables and adds a tasteful touch of nature.
39. Vertical Chicken Wire Wall Garden
Utilize reclaimed pallet wood and chicken wire to create this rugged wall garden. It's perfect for those hot summer days when you want to complete a fulfilling project without leaving the comfort of your air-conditioned home.