Your workshop is your haven for creativity and craftsmanship, but it is all too easy to descend into chaos with scattered tools and projects in disarray.
In this comprehensive guide, we are delving deep into the world of workbenches, offering you an array of solutions that cater to every skill level, workspace size, and design preference.
Bid farewell to the clutter and frustration that have plagued your workspace. It is time to reclaim your workshop, transforming it into an organized and personalized haven for your creative endeavors.
Jump to:
1. Easy Build Workbench
This easy DIY build workbench from Kreg provides a sturdy platform for your projects. Whether you're into woodworking or DIY repairs, it offers ample space to work efficiently.
2. Folding Workbench With 3-Shelf Plan
You can elevate your workspace with this folding workbench featuring three shelves from Etsy. It is perfect for organizing tools and materials, making your projects more convenient.
3. Simple DIY Workbench
This DIY instruction lets you craft your own simple workbench, Shanty Chic style. This workbench project is perfect for beginners and offers a versatile workspace for various tasks.
4. Compact Mobile Workbench Plans
If you're looking for a compact mobile workbench, Etsy's workbench plans have you covered. This mobile workbench is designed for small spaces and offers mobility for your projects.
5. Simple but Rock-Solid DIY Workbench
You can quickly build a simple yet rock-solid DIY workbench, as Fine Woodworking recommends. This workbench is a dependable tool for all your crafting and woodworking needs.
6. Portable Jobsite Table Saw Workbench
This portable jobsite table saw from Etsy ensures you have a stable platform for your saw and other equipment. With this workbench, you can take your projects on the go with ease.
7. Sturdy Workbench
Ana White's sturdy workbench is perfect for your serious projects. It offers a stable and spacious workspace for all your endeavors. You can opt not to finish it much for a rustic style.
8. Table Saw Workbench
If you're a table saw fan, Etsy's table saw workbench is a must-have. It provides a dedicated space for your saw and accessories. This workbench is packed with functionality and storage.
9. Bob's Mobile Workbench
Bob's mobile workbench, as seen in Bob's Plans, is a versatile solution for your workspace needs. It is mobile, making moving around your garage or workshop easy.
10. Wall Mounted Folding Workbench
You can save space with this wall-mounted folding workbench from Etsy. It is a practical addition to any small workshop or garage. It also looks great, very stable, and portable.
11. DIY Kids Workbench
You can foster creativity in your kids with this DIY kids workbench by Fix This Fix That. It's a fantastic way to introduce them to the world of DIY. You can even make this project out in a day.
12. WORKPRO 48″ Adjustable Workbench
For a ready-made option, you can consider Workpro's adjustable workbench from Amazon. This is a convenient addition to any workshop, offering versatility and durability.
13. Space-Saving Double-Duty Tablesaw Workbench
This space-saving double-duty table saw workbench, featured in Wood Magazine, maximizes your workshop's efficiency. It's a smart solution for combining functionality while saving space.
Don't sleep on the durability of Olympia Tools' hardwood workbench from Amazon. It provides a solid surface for your projects, ensuring stability and reliability with its made-to-last materials.
15. Workbench On A Budget
Family Handyman's workbench on a budget is perfect for those seeking affordability without compromising quality. You can easily get your projects done without breaking the bank.
16. Table & Workbench by BenchPro
The BenchPro table and workbench from Amazon offer versatility and utility in one package. This is a great accessory for any garage or shed. It's a great buy and simple to put together.
17. Ultimate Garage Workbench
Try to create this ultimate garage workbench with Curbly's guide. This is the ultimate homeowner's bench that could handle whatever you would throw at it. It is solid and versatile.
18. Heavy-Duty Workbench with Wheels
Amazon's heavy-duty workbench with wheels is a game-changer for mobility in your workshop. With this, you can move your projects with ease while maintaining stability.
19. Modular Workbench
Family Handyman presents a modular workbench that adapts to your changing needs. This is a customizable solution for your evolving projects. The foldout features make this bench perfect.
20. Vevor Adjustable Workbench
Vevor's adjustable workbench from Amazon is a versatile addition to your workspace. You can even customize the height for different tasks and enjoy its durability.
21. Sturdy Workbench Using Cheap Wood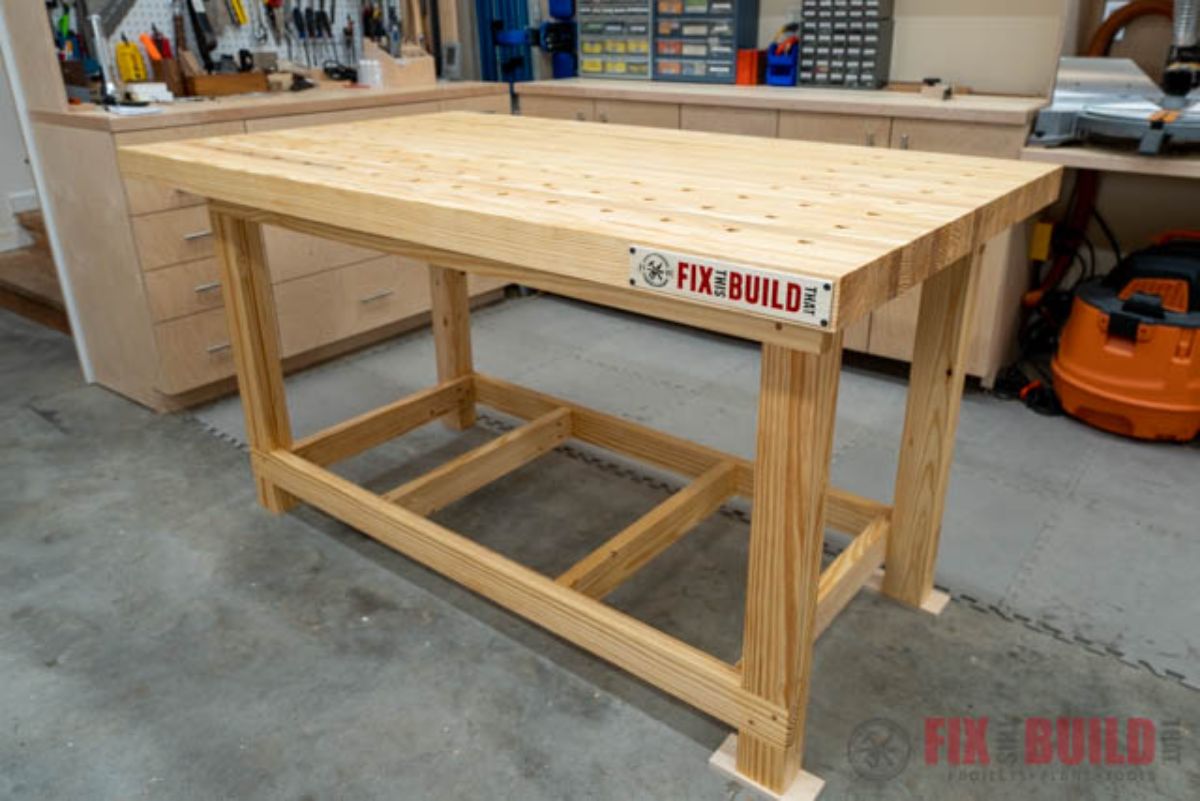 This DIY workbench project is perfect for those starting in woodworking. This is designed to be a rigid and unpretentious partner to support your projects capably.
22. Compact Folding Workbench with Storage
This compact folding workbench with storage, as featured by Family Handyman, is designed for small spaces. It's a solid, roll-around, space-saving solution with built-in storage.
23. Easy DIY Garage Workshop Workbench
Ana White's easy DIY garage workshop workbench is perfect for creating an efficient workspace in your garage. It's a simple yet effective solution ideal for beginner workbench DIYers.
24. Folding Mobile Workbench
Family Handyman presents this practical, folding mobile workbench, a versatile addition to any workshop. It is easy to store and move – you only need two hours and some plywood.
25. DIY Workbench with Storage Drawers
This DIY workbench offers a practical solution for keeping your tools organized and accessible during your projects. It's a great option for small shops where you need to maximize workspace.
26. DIY Folding Workbench
Saws on Skates presents a versatile DIY folding workbench, perfect for small spaces. This space-efficient solution can be tucked away when not in use.
27. Single Sheet of Plywood Workbench
Kreg's single sheet of plywood workbench maximizes simplicity and efficiency. This is a cost-effective option for a functional workspace, requiring only two tools and a sheet of plywood.
28. Super Simple $50 Workbench
This super simple $50 workbench is an affordable choice for DIY enthusiasts. It provides a sturdy surface without breaking the bank. Add a pegboard, and you'll have a serious work center.
29. Solid and Cheap 2×4 Workbench
If you want to spend less, Autodesk Instructables offers plans for a solid and cost-effective 2×4 workbench. This is a budget-friendly solution for all your workshop needs.
30. Drop-Down Workbench
This drop-down workbench is a clever space-saving solution, perfect for those with limited workspace. You can conveniently fold it down when not in use to reclaim your space.
31. Space-Saving Flip-Top Workbench
This space-saving flip-top workbench is a versatile addition to your workshop. It provides two work surfaces in one, optimizing your workspace. Plus, you can customize it with wheels.
32. Entry Level Workbench
For beginners, Autodesk's entry-level workbench is a straightforward option to start your DIY journey. This workbench is functional, easy to build, and meant to last forever.
33. DIY Mobile Workbench with Plans
Woodshop Diaries offers plans for a DIY mobile workbench with storage. This workbench is a workhorse and a practical choice for those who need mobility on their work surface.
34. Basic Pegboard Workbench
This basic pegboard workbench combines organization and functionality. With this workbench, you can quickly keep your tools within arm's reach while working on your projects.
35. The Ultimate Workstation Workbench
The ultimate workstation workbench by Rogue Engineer is a comprehensive solution for serious DIYers. This workbench is designed to accommodate various tools and tasks.
36. Classic Simple DIY Workbench
Octane Press presents this classic, simple DIY workbench that gets the job done. This is a timeless addition to any workshop and can be built in a day.
37. DIY Workbench for Small Spaces
This DIY workbench is specially tailored to compact areas. It's an efficient solution for maximizing workspace in tight quarters. It folds up and down to make a spacious benchtop.
38. Heavy Duty DIY Workbench
One Project Closer's heavy-duty DIY workbench is built to withstand rigorous use. This workbench is a reliable choice for those tackling substantial projects.
39. Shaker Workbench Plans
Wood Archivist offers plans for a Shaker workbench, combining traditional style with functionality. This workbench is a timeless addition to any woodworking shop.
40. Small and Compact Workbench Plans
My Outdoor Plans presents small, compact workbench plans, perfect for outdoor or limited-space workshops. Conveniently, the workbench features significant practical storage.