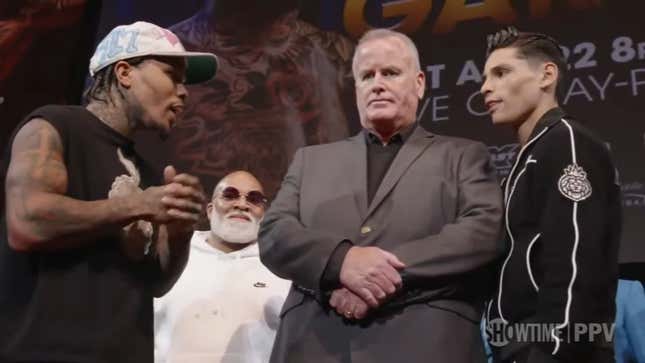 Boxing is a shell of its former self. Under the right circumstances, it can break through sports purgatory and be genuinely exciting. Enter two undefeated fighters in Gervonta Davis and Ryan Garcia, with one of the duo no longer having an unblemished record after this weekend's catchweight bout. Beyond the tale of the tape as an enticement, the duo has taken the best routes that've made professional wrestling and mixed martial arts trendier options in the current combat-sports scene. Promising a knockout where the loser has to leave the ring with a broken jaw doesn't hurt either.
Grant Hill looks to repeat Team USA's 2004 "success"
That vow of a mangled mandible was made by both Garcia and Davis to the other while posing for the traditional pre-fight photo-op with their fists near each other. Showing their out-of-ring personalities has been the calling card of the UFC, adding more drama to fights. Remember last March's fight between Jorge Masvidal and Colby Covington? All the trash talk made it much more interesting and it was only ramped up by their post-fight altercation in Miami. That same energy is being exhibited by Davis and Garcia, who clearly disdain each other and will add to how much each punch means inside the ring.
Masvidal and Covington borrowed from the pro-wrestling playbook to sell their fight, where the theatrical world of the squared circle relies on bombastic personalities and storylines to make every "fight" mean something. It's never only a matter of who is the best. It's the journey of how to be the best alongside it and what are the ethical behaviors of those who deserve championships. And that's the exact script Davis and Garcia are writing.
Breaking down the fight between undefeated combatants
Davis has the better track record of knocking out opponents, finishing 26 of his 28 professional fights via knockout. Davis has only had one fight end not by knockout since October 2014. That's 93 percent of Davis' career fights ending without the judges' scorecards. Garcia also has an impressive streak of knockouts, winning 19 of his 23 professional bouts not by decision, or just shy of 83 percent. Garcia has the only professional bout of the 51 prior combined of Davis and his to not end by knockout or unanimous decision. A September 2018 fight against Carlos Morales had one judge believe Garcia didn't win the fight.
Regardless of the trash talk, both fighters have to know the other is the biggest challenge of their professional career. It's beyond the obvious point that neither has lost a fight. It's common to hear in combat sports that styles make fights and this collision is scrumptious. Garcia has a 4-inch height advantage and has knocked out opponents with his signature left hook more times than not. Garcia also has fought at higher weights recently than Davis has. And Davis has had more headlining fights and has been in the sport longer. He's also had a multitude of ways of putting opponents on the canvas. With the promise both fighters have made to knock out the other, there's no way either fighter is timid. Both will throw haymaker after haymaker, big shot after an even bigger shot. And that's good for a sport that needs these types of crossovers to regrow a fan base.